5 Surprising Ways Your Clothes Can Affect Your Confidence
See what happens next!


Tips On Staying Confident
What we wear impacts how we think. However, sometimes we can't grasp what exactly clothes have to do with how we act and feel. Sure, when we put on a great shirt or killer suit we feel amazing, but does it extend beyond that? Can clothes, based on their comfort, style, and fit actually affect how we behave? We break down the curious connections between what you wear and being your best self.
1. The clothes you love helps boost confidence
Something we've all heard before - but there is science behind it. Wearing something we perceive as sexy, whether it's in plain view or not, can make us feel more self-assured, more powerful and more confident. 

Women have cited they feel better when they wear a certain type of underwear that gives a little push-up. Now men, can enjoy
the same result
and feel just as great.
2. Comfort affects your body language
When we aren't comfortable in our clothes, we can feel stiff and rigid. This stiffness can even extend into our faces. When you're irritated, your face can say it all, making you less approachable. If your underwear is chafing or riding up, you're going to be less likely to make a move in the room and you'll be stuck sitting on the sidelines to avoid an uncomfortable stride. Whether it be work or play,
comfort is key.
3. Do your best without the sweat
The moment you realize your clothes are a little moist from your body's heat and sweat, our confidence melts away. We become unfocused and begin to stress even more. "Can someone smell me?" "Do I have sweat stains on my clothes?". Once it's there, it's not easy to get rid of. So whether you're at work or working out, choose 
moisture-wicking clothes
to keep you dry and undistracted.
4. Feel good in sustainable fabrics
When you know your clothes are made with love and care and from sustainable, eco-friendly fabrics, we feel better about what we're wearing. Think about a time where you wore a clothing item that was made from eco-friendly materials. As you put it on, it not only feels good, but you feel good about wearing it. Eco-friendly fabrics such as
bamboo
, hemp, and linen not only make the world a better place, they feel great on our skin too.
5. Go red or go home
In a fascinating study published in the Journal of Sport and Exercise Psychology,
Tae Kwon Do, boxing, and wrestling athletes in red uniforms won more events in the 2004 Olympic games than their blue-clad competitors. It was found that wearing red is
linked to higher heart rate
, a higher pre-contest strength and higher testosterone levels in humans. With this in mind, we suggest these
Ferrari Red briefs
to get your heart pumping and your motivation motoring.
When you're dressing for success, set the stage for how you want to feel. This means starting with the very first thing you put on each morning: your underwear.
VanJohan
offers moisture-wicking, soft, durable and chafe-free underwear that prevent squishing and pinching so you can strut your stuff comfortably and confidently.
The best part, you can enjoy all these benefits without breaking the bank. Get your
VanJohan
underwear
20% off now
when you use the coupon code:
CONFIDENCE20
at checkout. But hurry this offer is only until October 10, 2018.
Your underwear, upgraded.
Ferrari Red 
VanJohan underwear was designed to be extremely comfortable and fit ALL body types. VanJohan stays classy and uncomplicated without compromising on quality, to bring you the comfort and confidence you deserve.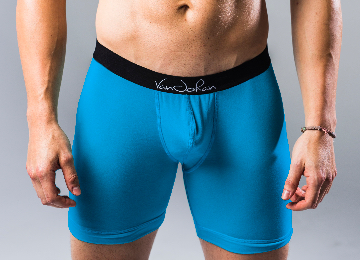 Ocean Blue 
Your underwear should outperform in any situation. Whether you are sitting down all day, working up a sweat in the gym, or lounging around. VanJohan underwear's cooling and moisture-wicking bamboo material will keep you dry and comfortable.
Midnight Black 
With a unique life-support that prevents squishing and pinching, VanJohan gives you a bold, confident, and bigger look. One, that also prevents friction, sticking, and itching. 
What people are saying about us...
THANK YOU! This is THE support I've been waiting for all my life. Right after I put them on I could feel how they were going to change my day.
Just got my 3 pairs of VanJohans. Put them on right away. By far the comfiest pair of under I have ever had. So worth it!!! I love them so much and will definitely be buying more.
Wow. I have tried every other brand on the market and nothing compares to these. By far the best and my wife loves the "enhanced look" haha.
I work in a law firm and spend most of my day at a desk. Having your "manhood" lifted while you sit all day was a game changer. I ended up getting my whole office to wear these.